AboutKidsHealth provides "information on acute and chronic pain from symptom recognition, to assessment and diagnosis to treatment and long-term outcomes. The information has come from many sources and has been adapted in collaboration with the Pain Centre at The Hospital for Sick Children". Further information about pain and pain management on this website can be found here.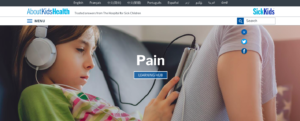 Pain Bytes is part of the Australian website Pain Management Network. From the introduction: "This website is designed to you gain a better understanding of your pain. The site contains information to enable you to develop skills and knowledge in the self management of your pain in partnership with your healthcare providers ".
Solution for Kids in Pain SKIP.
SKIP is a national knowledge translation network based at Dalhousie University and co-led by Children's Healthcare Canada. SKIP visions "healthier Canadians through better pain management for children" Please find here their newest pain management apps and online resources.
Aboriginal Children's Hurt & Healing Initiative (ACHH Initiative)
Indigenous children and families are often misunderstood and mistreated by health care professionals – an issue at the heart of the Aboriginal Children's Hurt & Healing Initiative (ACHH Initiative). The ACHH Initiative is working with communities and clinicians to bridge the gap in our understanding of Indigenous children's pain and hurt.

Last Updated: March 7, 2021